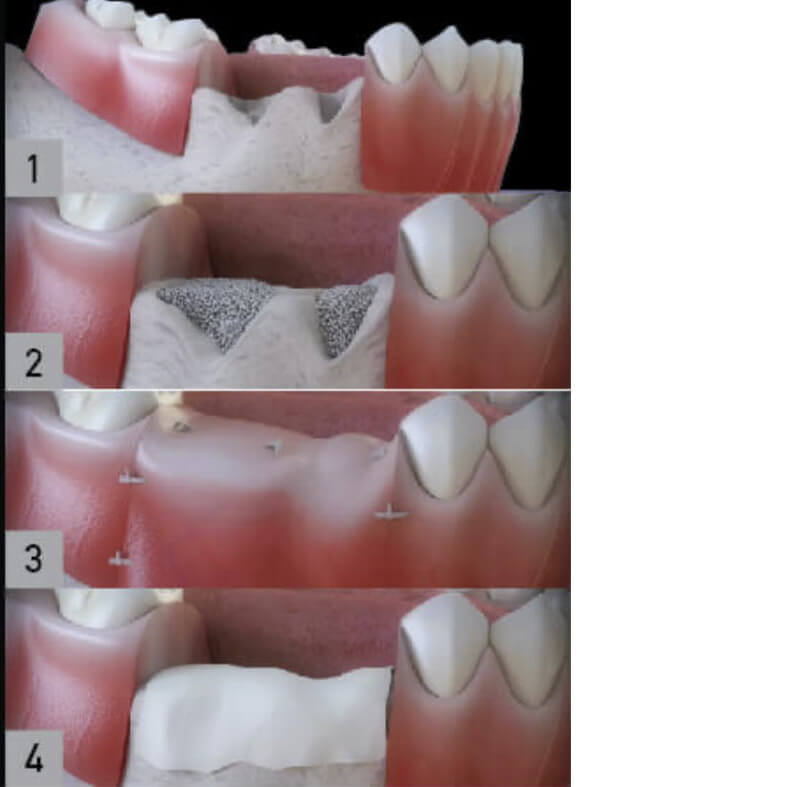 Bone grafting is used for various dental reasons, one reason is to prepare a site for dental implants that are needed to replace a missing tooth or teeth and second, for the replacement of bone from bone loss in gum disease.
Bone loss can be caused by:
The loss of a tooth
Localized infection
Gum disease
Trauma
In an area where teeth have been lost, the bone naturally shrinks or reabsorbs over time in height and width. As a result, new bone must be grafted to create a secure site for placing implants and to achieve aesthetic results.
Where does the bone come from?
For years, the grafted bone required during a sinus lift procedure had to be taken from another part of your body or jaw, requiring additional surgery. Today, bone grafting materials, such as Allografts may be used in place of your missing bone, with no additional surgery required. During the healing process, the graft material is indented to act as a scaffold and be replaced by your new bone.
What can I expect from a bone grafting procedure?
Before your procedure, we will go over any pre-operative instructions you should follow, as well as any specifics about the surgical process.
If you have any further questions regarding this procedure please contact our office.  Our office staff is always available to help answer any questions or concerns.
Reviews of our clients who used the services of our dentistry!
I always have a very good experience. They provide an excellent service, the staff is very friendly and attentive. The doctors were gentle, and did a great job. Would recommended 100% this place for any dental procedure.
gabriela Sanabria
2022-09-13
Highly recommended! Dr. Yunez and her entire staff makes you feel comfortable and that they actually care for the patient. They speak Spanish as well so that is definitely a plus.
Staff super friendly, excellent service and attention!
Amazing experience from start to finish. Doctor, staff and facility are top notch. Would recommend to everyone I know.
I want to say big thank you to Dr. Yunez. and her entire team, absolute professionals and the most caring staff. I needed to get my wisdom teeth removed and I lucked out with Dr. Yunez. The office staff was super friendly, I just could not be any happier with the care I received. THANK YOU!
Cassandra Proctor
2022-05-06
The most friendly, kind and gentle staff. From front desk to Doctor, everyone makes the experience feel comfortable and easy. My favorite dentist I've ever been to!
I usually don't like going to the dentist but this place made me feel very comfortable it's so spacious and clean.My hygienist was amazing and my teeth have never felt so clean
Preventative Care
Preventive dentistry is the practice of caring for your teeth...
Pediatric Care
Caring for baby teeth is something we pride ourselves...
Emergency Care
At Yunez Dental, we are here to meet your urgent dental...
Oral Surgery
A sinus lift is often required as a first step when placing...
Sinus Lift
A sinus lift is often required as a first step when placing...
Bone Graft
Bone grafting is used for various dental reasons, one reason...
Cavities
At Yunez Dental, we use only a composite resin filling material...
Dental Implants
Dental implants are a safe, esthetic alternative to...
Root Canals
A root canal treatment is performed when your tooth...
Crowns
Dental crowns are one of the most common restoration...
Invisible Braces
Traditional braces consist of standard metal brackets...
Veneers
Dental veneers are among the most common cosmetic...
Lower & Upper Tooth Replacement
If you are missing all of your teeth in the upper and/or...
Dentures and Partial Denture
A Dentures is a removable appliance used to replace...
Periodontal Services
Dr. Yunez and her hygienist focus on the treatment...